Desktop to SMS, two-way, enterprise mobile messaging solution.
OutlookSMS Messenger is a desktop application that provides users with an easy and familiar way to communicate with their mobile colleagues, clients and friends. By utilizing SMS and existing mobile devices, OutlookSMS Messenger leverages all of the existing benefits of Microsoft's Email client Outlook and offers a convenient and affordable way to communicate. After installing OutlookSMS plugin users can:
Send and receive messages from their popular email client
Create SMS alerts for some or all calendar events
Send and receive messages in any language (ASCII and UNICODE)
By utilizing an existing and familiar program (Outlook), users don't need to learn a new interface
Access existing personal and corporate address and distribution lists
Forward incoming email to SMS
Send email from SMS phone
Supports Outlook 2003 and 2007
For the billing and authentication reasons each user requires an active and funded account on the SideWidnerSMS platform. As a provider of the TelecomSMS solution you can either signup new users or have them sign-up for accounts on their own. Once their accounts are active they can download and install the OutlookSMS application on their desktop. Once installed, OutlookSMS can be accessed from the existing toolbar or from the menu item.

Upon entering address information (number(s) in international format) and message users send the message in a familiar way – just like they send email.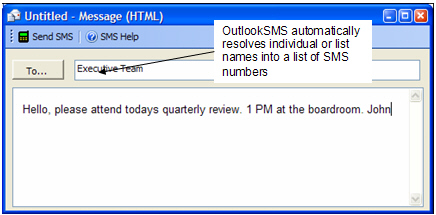 The message is then securely relayed to the server (SideWinderSMS) where the user is authenticated, billed and numbers are verified. Messages are sent and in most cases received within 20-30 seconds.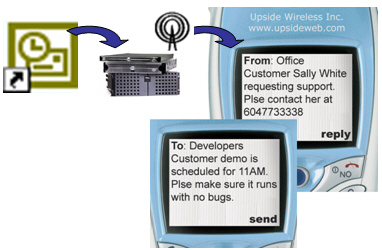 If any recipient replies to the message the message is relayed directly to the original sender's Outlook's Inbox.