To satisfy the need for messaging and to expand the reach and use of this practical and inexpensive communication medium, Upside has designed and built a customizable messaging middleware platform called the SideWinder SMS. SideWinder SMS, currently in its 9th generation is a proprietary mobile messaging platform with a set of development tools and pre-built modules that enable rapid integration and deployment of mobile messaging business applications.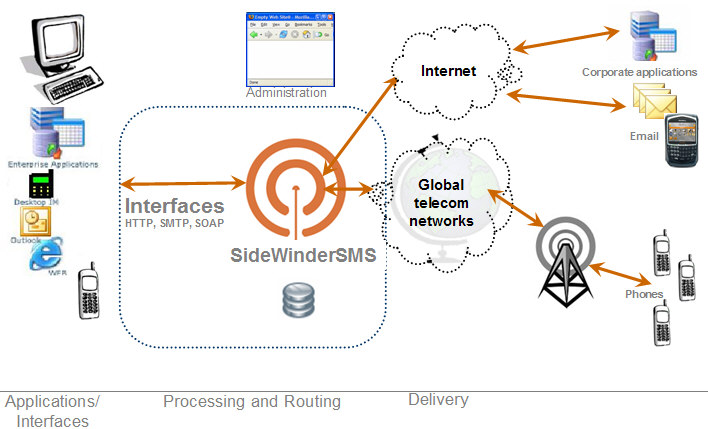 Enables timely delivery of relevant information.
Allows operators to establish redundant connections to some or all wireless networks and to configure it to run using the "lowest-cost" or "highest-availability" principle.
High throughput (up to 100 messages per second)
A running instance of SideWinder SMS can connect to an unlimited number of global wireless providers using telecom grade protocols (SMPP), GSM modems or remote SMS stations. This enables true global inter-carrier operability and creates a global, unified SMS network.
Acts as an intelligent bridge between electronic information residing on various and otherwise disconnected networks (e.g., the Internet, various data wireless networks owned by Telecoms, corporate networks running legacy applications and databases).
Based on open standards (Java).
As mentioned above, access to SideWinder SMS is provided by a variety of interfaces, each appropriate for the specific needs of the individual(s) or database sending or receiving the SMS.
Hotmail-like web interface: Using any web browser, users can upload their address book and send and receive SMS messages


Microsoft Outlook plug-in: Users familiar with Outlook can send and receive SMS in the same was as they would send e-mail


Instant Messenger application: Sidewinder SMS offers a stand alone instant messenger application - sending SMS from it is very much like sending instant messages through Yahoo IM, MSN or AOL.


Developer SMS API: By far the most scalable interface to Sidewinder SMS is the simple programming interface that enables ANY enterprise application such as CRM, ERP, e-mail server or any other custom made application or business process, to be connected to any and all global SMS network within one hour or less. This makes application-to-person interface easy to build with no up-front investment. The benefit of this is that line managers, with the knowledge of the business problem, can solve it without going through a complex budget approval process and IT resource scheduling.