It is your own international text messaging solution!
Private Label
Fully Hosted
Global 2-way SMS messaging
A Full Feature SMS web application, integrated with global network connectivity, enabling your customers to send text messages anywhere in the world while interacting with your brand!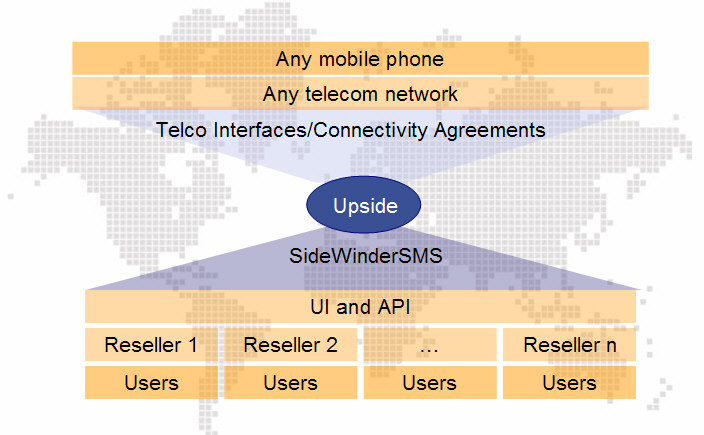 Upside has been in the SMS business for over 6 years and we've seen continuous growth in messaging in this period. The demand continues to grow and we serve the needs of global Fortune 100 as well as hundreds of thousands of individual customers worldwide.
What we realized is that while the overall market is immense it is also extremely fragmented and the only way to reach it is by specialization. We also realized that this is impossible to do with scale for any one company. For this reason, we built a technology that enables our partners to profit from selling their own SMS services, locally or internationally, while not having to worry about technology, infrastructure and carrier agreements.
Reseller SMS is a unique service that gives our partners all the tools to succeed in selling SMS services to any vertical segment in any country without ever having to write a single line of programming code, without the need to own and maintain servers, network operations crews or to know intricacies and administrative hurdles when dealing with wireless service providers.
Built on SideWinderSMS Reseller SMS is robust, high speed and high throughput solution for your SMS business. SideWinderSMS is installed and hosted in our data centre in Vancouver, Canada.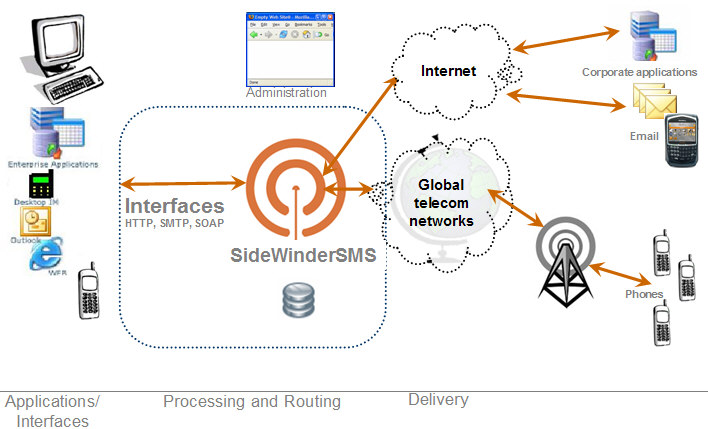 This application is secure and has redundant databases, network access, battery and diesel backup power generators. It is also run on telecom grade servers and continuously monitored by our competent network operations team. At any moment, SideWinderSMS has connections to almost all network operators on the Planet to both send and receive text messages.
Simple - you open an administrative account with our service. Depending on the size of your account we offer several levels of Service Agreements. This account allows you to manage your users, brand and promote your URL and your text messaging services.
It also lets you buy message units from our company at a wholesale price and then resell them to your customers at whatever price you want. The more customers you have, the more messages they send and the higher the price per message you charge them, the more money you make. The point is that with our service you focus on serving your customers and building your business. We provide you with all backend services that you need to be successful in selling text messaging services anywhere.
We offer a turn-key SMS business for you with minimal upfront investment! You won't be able to find a similar solution elsewhere in the market. To create a similar solution on your own would require significant resources (hiring developers, integrating connectivity with mobile networks globally, designing the application interface etc...).

In other words, there are no services similar to Reseller SMS.
Per message fee. Please note that you buy messages from us at wholesale rates and resell them to your customers at the price you want. Most of our resellers make upwards of 50% profit on each message they sell
For accurate pricing quote please Contact us and let us know estimated volume and country(ies) where your customers will be sending messages.
Fully hosted web application which you customize per your needs
Customer administration functions
Customer support management to help your customers get the most from your service
Pricing, marketing and other administration functions
Support from industry leader and a unique global messaging application
You access and manage all aspects of your text messaging service through a web service with your URL and branding. You can add/delete/users, set behaviour of your application, manage pricing and discounts, accept payments and market your services.
Ability to communicate with their friends locally or internationally using your service
Ability to send and receive text messages from any computer to any mobile phone on the Planet
Cost effective solution for their mobile messaging needs.
There are several ways your customers can access the service, but the underlined characteristics is that no matter how they access your services they see YOUR brand, your URL, your logo. They see your service and they interact with your company. Available interfaces are:
Web
Instant Messenger (PC only)
Microsoft Outlook SMS plugin
Application Programming Interfaces (API - for your existing applications to send and receive text messages)
Register a domain for your text message reseller site: www.yourdomain.com


Execute service level agreement with our company
Voila! Your site is set-up and active. You can start customizing with targeted content and branding!